Haley Fick
Accounting & Operations Manager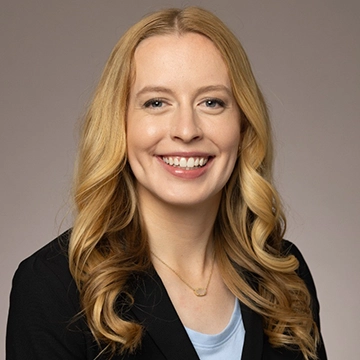 As the accounting & operations manager at the Boettcher Foundation, Haley is responsible for the processing and management of a variety of accounting, operational, and HR functions.
As a licensed Certified Public Accountant in the State of Colorado, Haley is excited to be heavily involved in the accounting and operational side of the Foundation but equally as excited to branch out into the other sides of the Foundation.
Prior to joining Boettcher, Haley worked as a senior associate at KPMG LLP where she focused on executing audits of companies spanning from large, SEC-traded corporations to smaller, private foundations. She also loved staying involved in campus recruiting, focusing on connecting students to accounting opportunities at KPMG.
Born and raised in Arvada, Haley attended Colorado State University where she studied business administration with concentrations in accounting and finance and a minor in Spanish. Haley was heavily involved in leadership programs including the Dean's Student Leadership Council and the University Honors Program.
Haley is passionate about university education, career mentorship, faith, family, and baking treats! She lives in Arvada with her husband, Luke, and puppy, Wrigley.
Community Involvement:
Colorado State University Dept. of Accounting, Early Career Advisory Board Member
Colorado Society of CPAs, Member
Favorite Colorado Experience:
Everything! From ice skating on Evergreen Lake, to a brunch picnic on the Oval at Colorado State University, to tubing on Clear Creek in Golden, to camping in the Rocky Mountains, there are endless adventures to be had!
Favorite Quote:
"Comparison is the thief of joy" – President Theodore Roosevelt