Tiffany Anderson
Senior Director of Programs & Strategic Initiatives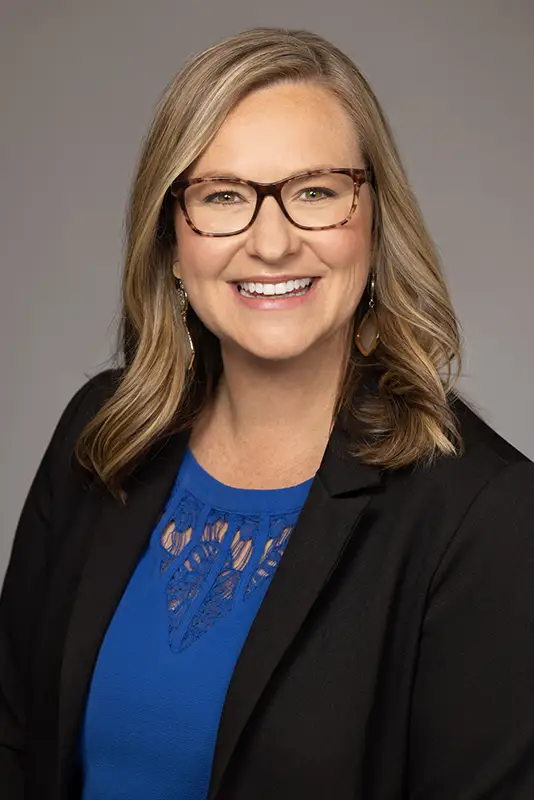 Tiffany Anderson oversees the Boettcher Foundation's portfolio of programs and grants including the Boettcher Scholarship, Webb-Waring Biomedical Research Awards, and other grants. She also serves as the Foundation's primary contact for scholarship relations.
Before joining the Foundation team, Tiffany developed and directed the Leeds Scholars Program at the University of Colorado's Leeds School of Business. Prior to that, she served as the program director and senior program manager of the Presidents Leadership Class at CU Boulder for 10 years.
Tiffany is originally from a farm in Idalia — a small town on the eastern Colorado plains. For perspective, there were only 10 people in Tiffany's high school graduating class. From there, she attended the University of Colorado Boulder.
Tiffany is an advocate for K-12 education and has also been active in numerous educational task forces in our state. She and her husband, Jason, live in Broomfield with their three energetic children: Hunter, Adelynn, and Sophia. In her free time, Tiffany enjoys participating in service activities with her family, watching her son's band and her daughters' soccer games, or exploring some of Colorado's local breweries.
Community Involvement:
National Scholarship Providers Association, board of directors, president-elect
Colorado Governors Fellowship Program
Rocky Mountain Partnership, board member
Colorado Youth Congress, board of directors
Former member of the Long-Range Planning Advisory Board for Adams 12 Five Star Schools and district volunteer
Presidents Leadership Class, CU Boulder, board of advocates
Favorite Colorado Experience:
I love going to the YMCA of the Rockies in Estes Park. My family does Thanksgiving there every year. We love to roller skate, indoor rock climb, and snowshoe.
Favorite Quote:
"Just keep swimming." — Dory from "Finding Nemo."